You helped Amanda beat 5 different cancers before age 30…but she'll always need YNHH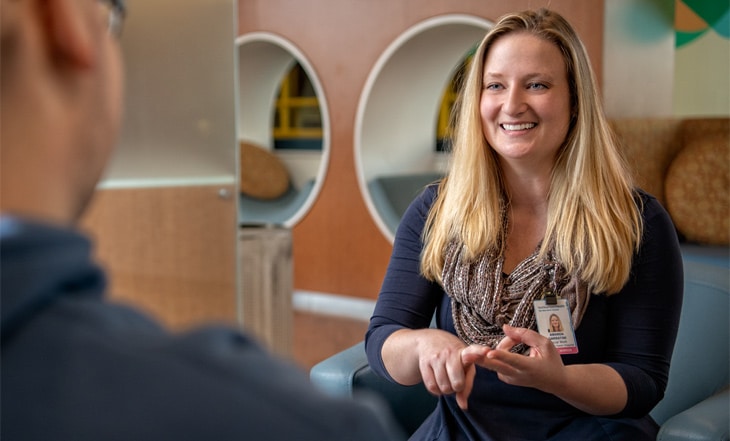 "I'm just hilarious," Amanda says, referring to her love of snappy conversation and clever quips. Not what you'd expect from someone who had five different cancer diagnoses before the age of 30.
So much sickness in one person's life doesn't seem possible, but Amanda has a rare genetic disorder that puts her at a high risk for developing a range of can-cers—and she'll face that terrifying risk for the rest of her life.
But thanks to your generosity, at age 33 Amanda is living an incredibly full and meaningful life. She's an avid athlete—a hand-cycling marathoner, rock climber, and yoga enthusiast. She loves reading, cook-ing with her boyfriend, watching movies, and her cat, Bronx (because she's a huge Yankees fan).
And she has a profoundly important job that she loves (more on that later).
One shocking blow after another
Her first cancer diagnosis came at age 11, when she discovered a lump in her left leg. She was treated with chemo and radiation. She lost her hair, her eyelashes, and her energy. She missed so much school she had to repeat seventh grade.
But her leg couldn't be saved. It was amputated just above the knee when Amanda was only 13.

That experience alone is a more-than-ample dose of illness for a lifetime, but over the next 15 years, there were four more cancer diagnoses. And a seemingly end-less succession of harsh treatments and surgeries.
Throughout it all, Amanda received medical care at Yale New Haven Hospital and Smilow Cancer Hospital.
She credits her doctors with saving her life, time after time. "No stone was ever left unturned for me and my family," she says. "It's so evident that these doctors truly care about making sure I have the best possible quality of life.
"I've been healthy now for six years—the longest I've gone without cancer in the last 22 years… knock on wood!"
Do you believe in silver linings?
It's hard to believe, but something wonderful actually came out of Amanda's illnesses. Her experiences led her to pursue a master's degree in social work. Today, she is a licensed social worker and the coordinator of the Adolescent and Young Adult Oncology Program at Yale New Haven Children's Hospital. She helps teens and young adults with cancer cope with the psychoso-cial and emotional challenges they face.
She brings an incredible empathy to her job as a result of her own medical history—and her patients are grateful to have someone to talk to who really under-stands them.
"I feel so lucky that I get to do what I do," she says. "I feel this is what I'm meant to do, this is my purpose." It's not just Amanda's professional life that is bound to YNHH. Her future health and survival are too.
Her rare genetic syndrome means that her health must be closely monitored. "I get bloodwork every three months, an annual full-body MRI from brain to toes, a gynecologic check every four months, annual kidney screenings and dermatology checks, and a yearly abdominal ultrasound," she says.
"I will always need the hospital and I will always need my doctors to care for me. Yale New Haven has been a true constant—a rock in the medically crazy life I've had."