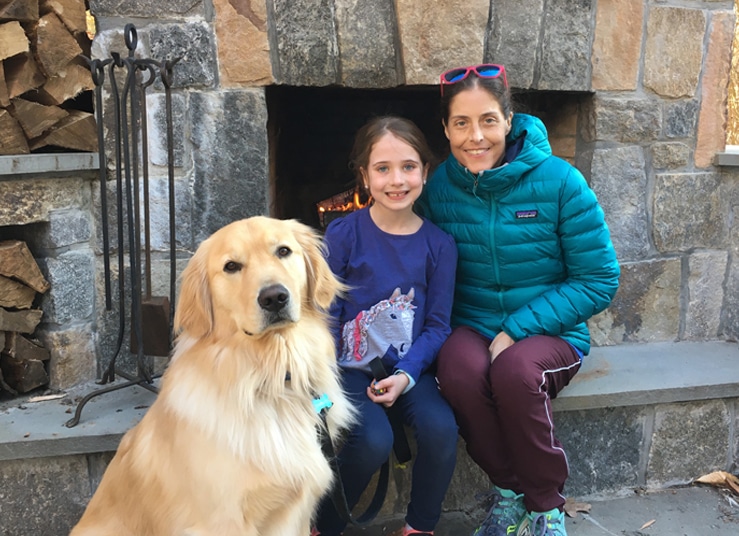 Thanks to you, just one month after a liver transplant, Caitlin took her first walk outside. Daughter Reagan and canine cheerleader Charley are so grateful.
---
FOR 21 YEARS, Caitlin managed to keep her liver disease from hijacking her life. But in August 2020, her doctors told her she had run out of time.
Today, thanks to your generosity, she has a new liver and is training to run the Boston Marathon.
Caitlin has been an outstanding athlete all her life. Soccer was her sport in high school, but after her liver disease diagnosis her senior year, her doctor said she had to give up contact sports.
Still, she didn't let that stop her. In college, she took up cross-country. Her first year as a runner, she was #1 on her team, #2 in New England, and qualified for Nationals.
With the excellent care she received from Yale New Haven Hospital, Caitlin kept symptoms at bay, racking up more athletic and life achievements than most of us could dream of.
Caitlin competed in dozens of races. She ran the Boston Marathon to raise funds for the American Liver Foundation. She had a demanding career as a registered nurse. She married and became a mom to her daughter, Reagan. And last spring, she completed her studies to become a nurse practitioner.
"But deep down, I always knew I'd end up with a transplant," she says. By the summer of last year, her symptoms had become unmanageable — excruciating cramping, debilitating swelling in her legs, and over­whelming fatigue. Caitlin's doctors told her she was in end-stage liver failure.
Her only chance of survival would be a brand-new liver.
The search for a living liver donor
Caitlin's best option was a living donor transplant. It's almost always quicker to identify a living donor than to wait on the list for a deceased individual's liver. And a living donor's liver would most likely be much healthier.
Living liver donation is possible because the liver is the only organ that can miraculously regenerate itself. A donor gives a portion of her liver to a recipient, and both regrow full livers in a matter of months.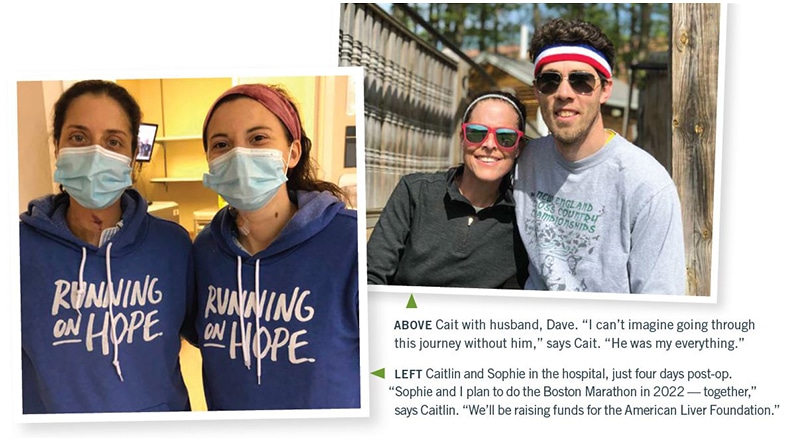 Caitlin and her husband, Dave, put out the call on a Facebook page dedicated to the search for a donor. When 25-year-old Sophie Long, also a passionate long-distance runner, saw the post, she immediately felt a deep connection to Caitlin — even though the two had never met.
"She was so determined," says Caitlin. "It felt like it was meant to be." A demanding series of physical and psychological evaluations at YNHH showed that Sophie was Caitlin's perfect match.
The two women met in person for the first time just before the 10-hour surgery on February 2. Caitlin's surgeons removed her liver — it was so shrunken they were amazed she was able to function at all — and replaced it with a portion of Sophie's healthy liver.
Believe it or not, just three months later both women were back out on the track, testing out their legs and their regenerated livers! They're eager to train and get back in shape because they plan to run a lot of races over the coming years — together.
For the rest of their lives, Caitlin and Sophie will share a special bond. "She gave me a new life," Caitlin says. "She is probably the most selfless, courageous person I know."
Thank you, donors, for your support of the Yale New Haven Transplantation Center. You helped Caitlin get her life back!
---
YOU too can help save someone with life-threatening liver disease
Your generous donation today to the Center for Living Transplant Donors Fund will help another patient like Cait get a new liver and a new lease on life.
Or, if you'd like to consider becoming a living liver donor like Sophie, you can learn more about it at: ynhh.org/services/transplantation.