Christopher beat COVID-19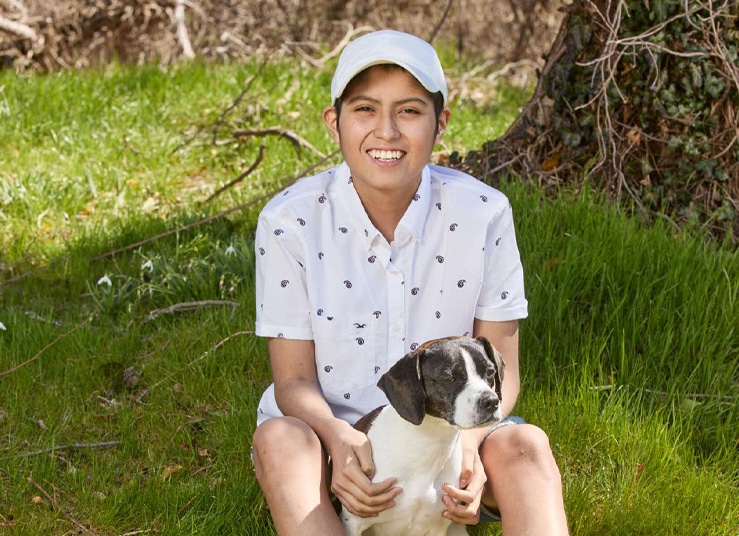 Christopher beat COVID-19, even as he battled leukemia
---
CHRISTOPHER HAS HAD LEUKEMIA since age five — so his immune system is weaker than most.
Now 15, Christopher has already grappled with more health challenges than most of us will face in our lifetimes. A series of difficult leukemia treatments — chemotherapy, immunotherapy infusions, and even bone marrow transplants — caused painful side effects and further compromised his weak immune system.
Despite all this, Christopher is an upbeat kid with a great sense of humor. His mom, Sandra, says there's nothing around the house that he can't fix. And he worries more about others than he does about himself.
Sandra has a story she likes to tell about what makes Christopher special. "When he was younger," she recalls, "he wrote his letter to Santa, saying that all he wanted for Christmas was to prevent other children, everywhere in the world, from suffering as much as he had suffered. When I read it, it made me cry."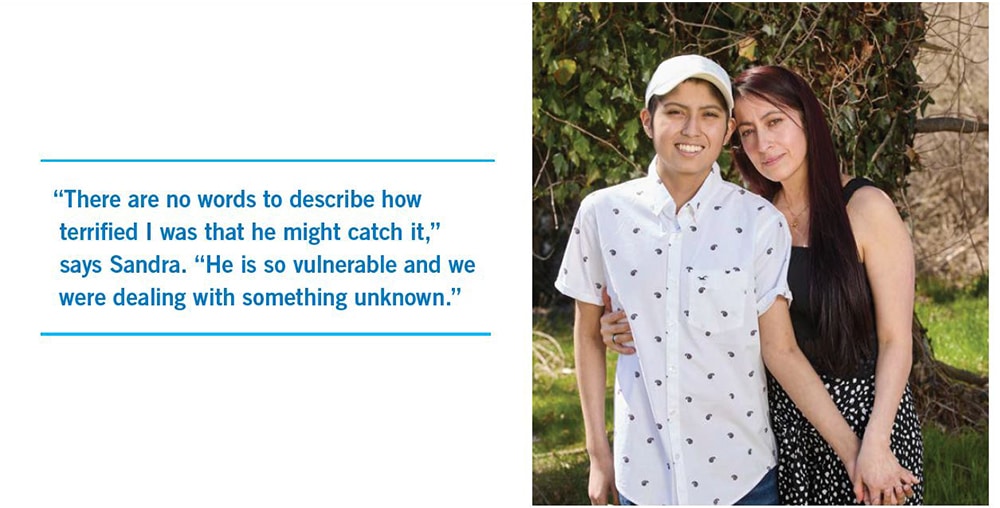 Serious risk for Christopher
"When the pandemic started," says his doctor, Niketa C. Shah, MD, director of the YNHH pediatric bone marrow transplant program, "I instructed all my fam­ilies to take special precautions. Transplants make the patients' immunity even lower, so they are at high risk."
Christopher's mom, Sandra, was beside herself with anxiety. "There are no words to describe how terrified and worried I was," she says.
The family followed strict safety precautions. San­dra, Christopher, and his brother Eric barely left their apartment. But Christopher's dad couldn't quarantine — he had to go out to his construction job every day.
A relapse and a diagnosis
And then, Christopher's leukemia relapsed. Dr. Shah had hoped to minimize risks by delaying any elective transplants — without affecting patients' health — until after the pandemic. But unfortunately, Christo­pher's couldn't wait. In November, he had a bone marrow transplant.
What happened next seems almost unbeliev­able, given what the family had already been through.
Shortly after Christopher returned from the hospi­tal, weak and tired, a colleague of his dad's tested pos­itive for the coronavirus. And within days, the entire family tested positive as well — including Christopher.
Dr. Shah was alarmed. "Christopher wasn't strong so soon after the transplant," she says. "We hoped he wouldn't get COVID complications."
That's why Dr. Shah had Christopher receive a newly authorized treatment for patients at high risk of dangerous complications. It's called monoclonal anti­body therapy.
And then they waited. "My anxiety was through the roof," says Sandra. "Every morning, the first thing I did was run to Christopher's room to check on him.
And he would look at me with a big smile and do some dance moves to make me laugh."
Christopher recovered — without complications — thanks to this innovative treatment. And Sandra and the rest of the family are coronavirus-free now, too.
Because of your generous support, Christopher has been able to receive the most advanced care for his leukemia — and the most innovative treatment available for his COVID-19. The entire family couldn't be more grateful.
For Christopher, and other kids like him, please give blood at your next local blood drive. You just may save a life.
---
You can make a difference for patients with long-term COVID-19
Some patients experience lingering symptoms, long after their infections are gone. Your generous gift to the Post-COVID-19 Treatment Recovery Program at Yale New Haven will help ensure they get the care they need.
Click here to give online