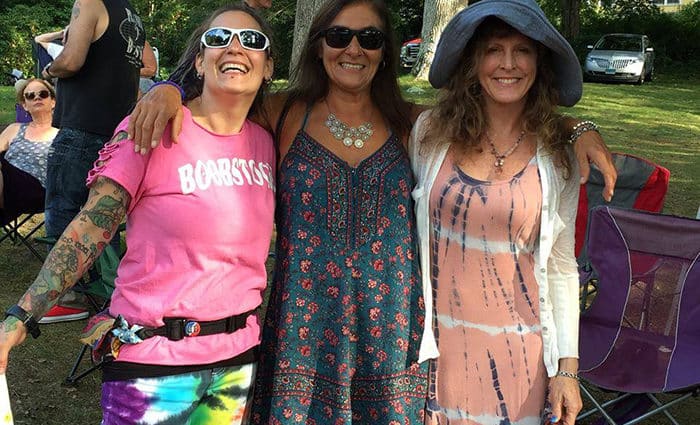 It's Time For The Annual Boobstock Celebration In Deep River
Each year, for the past ten years, in the middle of September the annual Boobstock Celebration is held at the Sobieski Club in Deep River.
Paying it forward, one breast cancer survivor has touched many through the creation of the Boobstock Annual Celebration. Back in 2013, Deep River resident Margaret Rohner (pictured above with Jack Adanti) beat breast cancer and wanted to create something to give back to others, so she and her boyfriend Jack Adanti and dear friends Pattie Unan and Linda Johnson started Boobstock. Sadly, after the first celebration Rohner passed away, but Adanti, Johnson and Unan kept her dream alive. This year's Boobstock will be held on Saturday, September 16th from 1 to 8 p.m. at the Sobieski John III Club , 10 Woodland Rd, Deep River, CT 06417
"This is a very emotional celebration for me every year," said Unan, who lost her mother to breast cancer in 2012.
She added, "This is a great event that helps so many people. The music is great, the food is fabulous and the money all goes to help underprivileged women battling breast cancer."
Proceeds will go to breast cancer patients at Middlesex and Smilow's Cignari Boutique. Over the past 10 years Boobstock has raised and donated over $50,000.
There will be five great bands performing, food, a bevy of raffle items donated by local businesses, a cash bar and lots of fun. Guests are encouraged to bring blankets and lawn chairs and because parking is limited, carpooling is suggested.
For more information about the raffle items call 860-227-6232 or email dram2006@gmail.com
For more information about the event, or to donate go to Boobstock.