Friends of Yale New Haven Children's Hospital
The Friends are a volunteer organization that's mission is to support the clinical care and educational and outreach programs necessary to improve the health and well-being of children and their families at Yale New Haven Children's Hospital
Founded in 1989, The Friends help improve the health and well being of pediatric patients and their families through support of clinical care, education and outreach.
The Friends Board members are a diverse group of volunteers from a wide range of backgrounds in business, education, healthcare and community affairs. Together, they share a deep commitment to helping improve the health of children.
Any member of the community, who participates in an activity sponsored by The Friends Board, is automatically welcomed as a "Friend" of Yale New Haven Children's Hospital.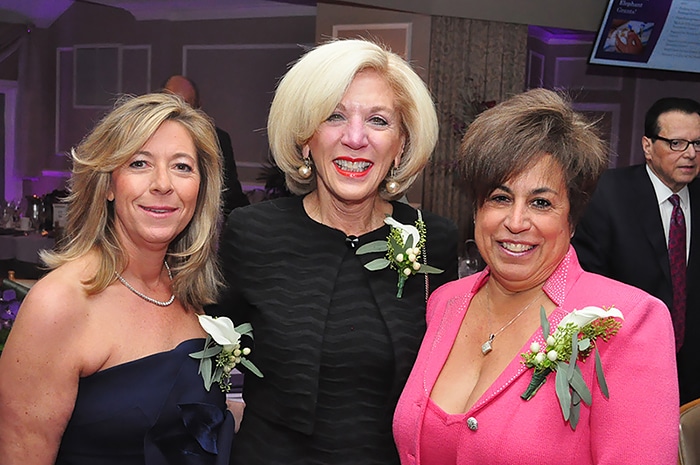 Cynthia Sparer (middle) with Friends Co-Presidents Christine Fontana and Alyssa Blume
Mission
The Friends are a volunteer organization that's mission is to support the clinical care and educational and outreach programs necessary to improve the health and well-being of children and their families at Yale New Haven Children's Hospital.
Recently, the Friends of Yale New Haven Children's Hospital allocated funds to help renovate the hospital's Inpatient Psychiatric Unit, which cares for children who require hospitalization for a wide range of behavioral and mental health issues. The Friends have formed a special bond with the unit, providing funds over the years for therapeutic yoga classes, supplementary clothing and other resources.
In 2013, the Friends launched a new fundraiser, called Mustaches for Kids, and had a great time while raising funds to help families in need purchase iPads and special software for their children with communications disorders. The iPads have, in many cases, opened up a new world for these children, allowing them to communicate their wishes and needs to their families for the first time. The Friends' Junior Board was also involved in this project, raising funds for iTunes cards to help families pay for the necessary software.
Additional areas of support from the Friends include funding for specialized goggles that allow young patients to watch videos while undergoing MRI scans, new DVD players and movies for inpatient units, a vein-finder device that allows quicker and more accurate blood draws in the Emergency Department, several Young Investigator Grants to support research by physicians early in their careers, and the hospital's Supportive Care program, which helps children and families fighting cancer.
Junior Board
In 2003, the Friends Junior Board was created to provide 14-18 year old high school students an opportunity to develop philanthropic and business skills while advancing the mission of the Friends. Junior Board members create their own fundraising initiatives and select areas and programs within Yale New Haven Children's Hospital that resonate with them.
Over the past 5 years, the Junior Board has had numerous accomplishments. They have established a highly-successful "Healthy Relationships Wristband Project" to educate teens on dating violence and work on numerous projects throughout the years to support literacy programs such as Reach Out & Read and Read to Grow.
When not working on their own fundraisers, they actively support other Friends and YNHCH initiatives such as the Golf & Tennis Tournament, the March of Dimes Walk for Babies, and much more. This dedicated group of young adults demonstrateds great leadership and dedication to improve the health and well-being of children.
For more information about the Junior Board, please contact giving@ynhh.org
Support Our Mission - Recent areas of support include:
YNHCH Family Emergency Fund
Provides small, one-time gifts to patient families in need during periods of crisis or extreme duress. Examples of funds used to date include purchase of refurbished medical equipment, car seats, cribs, medication copays, emergency travel, food and medical supplies, etc.
PSC Train Program
One year funding of routine maintenance to the beloved train display in the Pediatric Specialty Center, where over 15,000 children visit annually to receive care.
Pediatric Nursing/Specialty Center iPads
Allow Pediatric Specialty Center personnel to use age appropriate games and other distractions to assist with patient compliance during blood draws, IV catheter insertions, radiologic testing, etc.
Arts for Healing
Support for the ongoing program of art therapy for children 10 years and older to help build self-esteem and coping skills while undergoing difficult or repeated hospital experiences.
Healthy Food Healthy Family
Funding for a pilot program to provide nutrition education to families with infants in the Nurturing Families Network program, including home visits, modeling, shopping and preparing healthy foods. The goal of the program is to explore early intervention in obesity prevention through one-on-one education.