Lindsay's Legacy Foundation
They lost their precious Lindsay but found a passion to help others
Lindsay's Legacy Foundation brings hope, research, and healing to cancer patients
---
Just a few days before she passed away from acute myeloid leukemia, 28-year-old Lindsay made a last request to her family. "Promise me you will live your lives and try to be happy."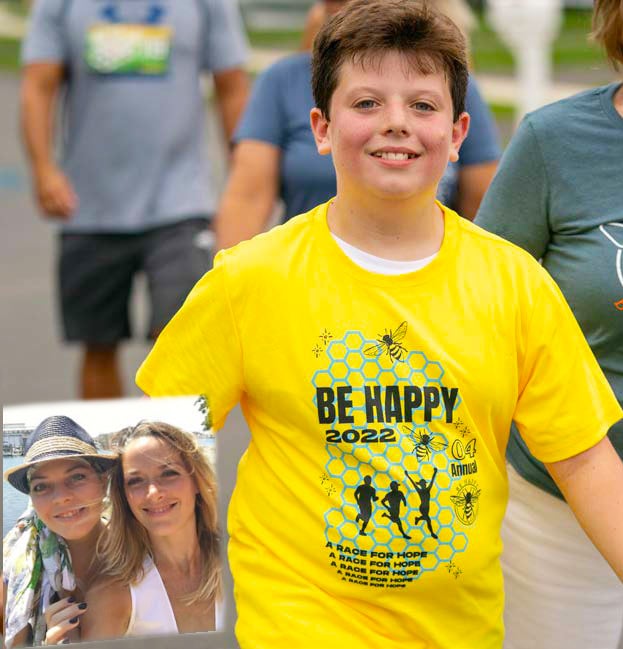 "I couldn't deny her the one thing she asked of us," says Lindsay's mom, Carla. "I promised."
Lindsay was a strong, vibrant daughter, sister to Stephanie, and mother to then 5-year-old Landen. Her battle with cancer began in March 2016, with what she thought was just a stomachache. Lindsay's family and her fiancé, Sean, were with her on every step of her journey over the next 16 months.
Lindsay immediately started inpatient chemotherapy when she was diagnosed, but it didn't help. Her prognosis looked grim, until Smilow Cancer Hospital accepted her into a clinical trial.
Lindsay was able to receive this new treatment as an outpatient. "It was miraculous," says Carla. "We had her home and she was thrilled."
The trial gave Lindsay one more year to live her life and be with her loved ones before she passed away.
Keeping an impossible promise
When it was over, Carla and Stephanie struggled to find a way to keep their promise to be happy. "When you lose a person you loved so much, your heart is broken," Carla says. "To try to heal and find purpose, we started Lindsay's Legacy Foundation to raise funds for Smilow Cancer Hospital."
Stephanie and her husband, TJ, are dedicated runners, and after Lindsay's death, Sean began running too. They decided to launch the foundation in 2019 with the Be Happy 5K Run in Windsor, CT. Each year, more than 300 people participate.
All proceeds from the race are directed to research and clinical trials. The family knows how critical these trials are to help patients and their families sustain hope. "The clinical trial is the only reason Lindsay ever got to come home when there was nothing else for her," says Carla.
Lindsay's Legacy Foundation also hosts monthly events to raise funds for direct patient support, including craft supplies and programs to divert and distract inpatients and their families.
"Lindsay's Legacy was created to honor Lindsay by making the lives of those on a cancer journey a little bit better," says Carla. "I could not have imagined that in helping others, my life could be impacted to the degree it has."
This August, the foundation will host its 5th annual run. Visit lindsayslegacyfoundation.org to register for the Be Happy 5K Run and learn about monthly events.