Luke McQuillan's Creative Giving
16-year-old Luke McQuillan knows how to make things better for kids with cancer
---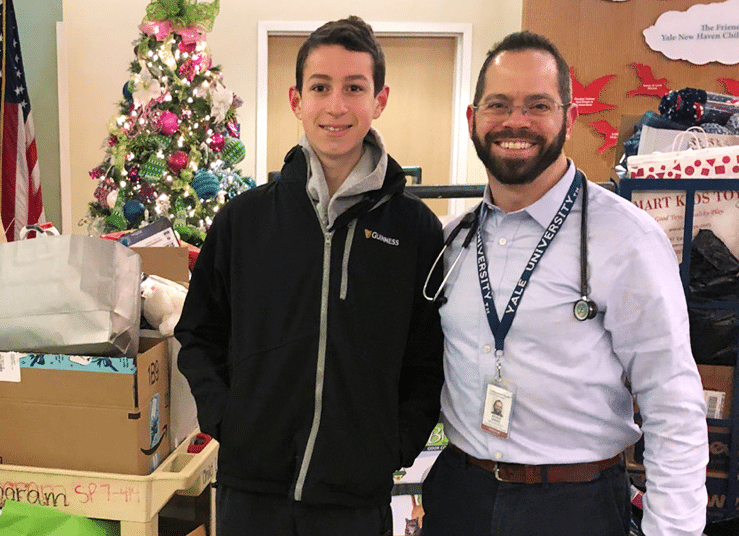 ---
LUKE MCQUILLAN was about to start third grade at Riverside Elementary School in Greenwich when his life took a sudden, terrifying turn. He was diagnosed with brain cancer.
At only eight years old, Luke had emergency brain surgery. He missed an entire year of school while undergoing chemotherapy and radiation treatments. He endured countless MRIs, intravenous lines, and needle pricks.
"It was so awful to see him going through all that," remembers Luke's mom, Meg. "Every time he went to the hospital, he had to get an IV. He had a port installed under his skin. And the MRIs — they were two hours long!"
But what Luke remembers most from that challenging time was hearing about all the other pediatric cancer patients who were also strug­gling with their treatments — the needles, grueling procedures, depression, and loneliness.
Once his own treatments were behind him, Luke knew he had to do something to help those kids.
So, with the help of his family, Luke launched his first holiday gift drive in 2017.
That first year, Luke collected nearly $14,000 worth of toys, earbuds, art supplies and other items chosen especially for 10- to 18-year-olds fighting cancer at Yale New Haven Children's Hospital. The drive was so successful, Luke decided to make it an annual holiday event.
---
"I wanted to bring gifts to the older kids. You miss out on so much of your life when you're in the hospital. A fun gift really lifts your spirits." — Luke McQuillan
---
When the pandemic struck in 2020, Luke worried the enforced isolation would make things even tougher for young cancer patients. So he decided to direct the funds he raised to the hospital's new Virtual Reality Support Group program for teens fighting cancer.
And this past year, the McQuillans raised funds to help pilot PRISM (Promoting Resilience in Stress Management). This program includes a kid-friendly digital app, and it's designed to coach adolescent patients through their cancer experiences.
That makes five years and more than $100,000 raised to help kids with cancer get through the tough­est time in their lives. All thanks to a caring young man who knows just what it takes to get through it. Luke, you are amazing!