Motorcycles and Hats Bring Joy
Bringing joy to kids with cancer
---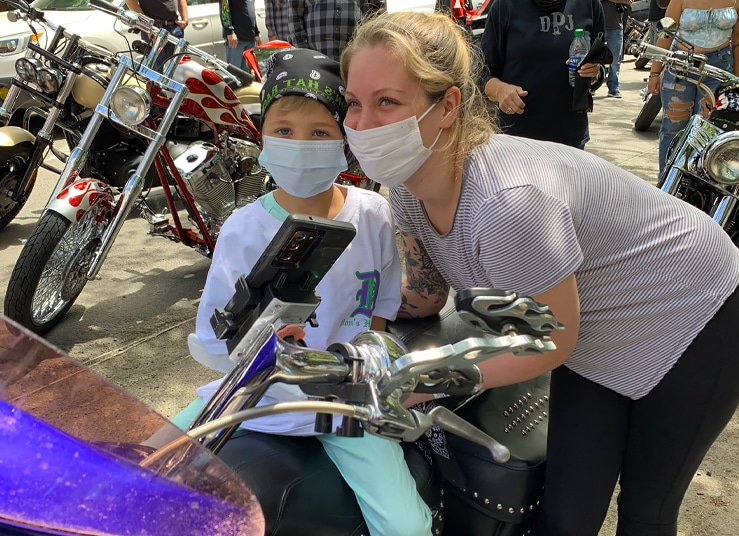 When 23-year-old Donald Perrotti lost his battle with cancer in 1998, his heartbroken family wanted to keep his spirit alive
---
THAT'S WHY DONALD'S MOTHER, Roe, and her close-as-family, lifelong best friend, Gale, created Don's Hat Rack in 1999. (Roe and Gale actually became "real" family when Roe's daughter — Donald's sister — married Gale's son.
Don's Hat Rack is located in the reception area of the Pediatric Oncology Outpatient Clinic at Yale New Haven Children's Hospital, where Donald spent much of the last six years of his life. The Hat Rack is a large, colorful cabinet that's loaded with donated kid-sized hats of all kinds — free for the taking by any child undergoing cancer treatment at YNHCH.
Roe and Gale had spent many days and nights at the hospital when Donald was there, and they'd seen how tough it was for kids to go through treatment — including the embarrassment of losing their hair from chemotherapy.
Friends and family donate new hats of all sizes and shapes — from knitted beanies to firefighter hats to crazy hats with paws and ears that pop up and down. Anything that might bring a smile to a sick child.
"As a family, we've kept the cabinet filled for 22 years," says Gale. "It's never been empty."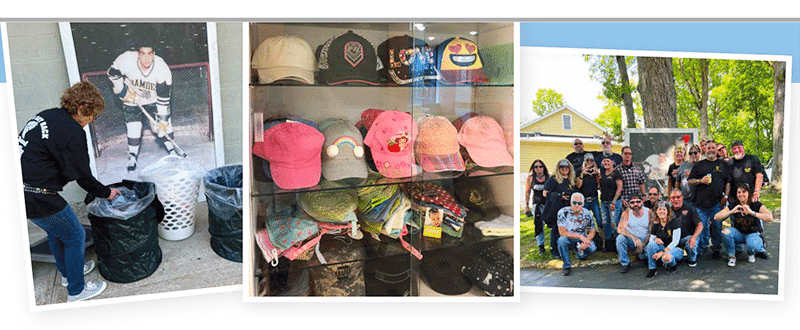 The rally roars in…
Creating Don's Hat Rack was just the beginning.
As Donald's 30th birthday approached, his family wanted to do something more to honor him. Several family members are dedicated motorcycle riders, so they decided to organize a rally.
"We asked everybody to bring a new hat for Don's Hat Rack," recalls Roe. "We would donate the riders' entrance fees to raise money for the Children's Hospital."
That first rally was in 2005. It was such a great success that it became an annual tradition and celebration of Donald's life. In the years since, the rally has raised over $100,000 for pediatric oncology.
Roe, Gale, and their family direct the funds to a range of needs in pediatric oncology — whatever the staff tells them they need most, including gaming systems and toys, new furniture, support for the Smilow/Telesz Teen Center, and Thanksgiving dinners and holiday gifts for patient families in need.
…After a two-year pandemic hiatus
This past June, the 16th annual rally took place on a beautiful, sunny day. Just like in years past, riders gathered at the Louis Asterino Ice Arena in Hamden, because that's where Donald led his high school hockey team to countless victories.
More than 400 riders roared into action and headed to a park just outside the hospital. "The kids who are able to come outside are so excited," says Roe. "They sit on the motorcycles and rev the engines."
Next, the riders headed to Milford, rode up the shoreline, and made their way to the Polish American Club in West Haven for a huge picnic and party.
It was a wonderful day for all, but was especially emotional for Roe, Gale, and the family. "We feel so great to be able to honor Donald and keep his memory alive through this," says Gale. "He'd be thrilled."