NICU nurse Megan Ryan helps parents through the unimaginable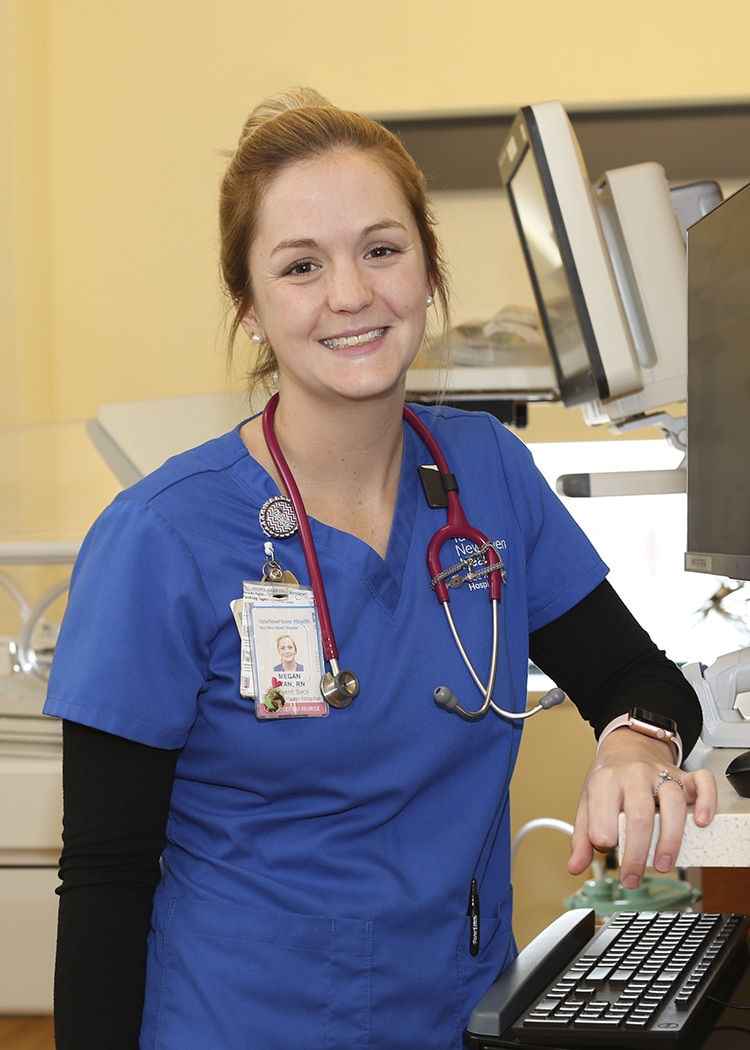 "IF YOU DON'T EXPERIENCE IT, you really can't know what it's like," says Megan Ryan, RN, Yale New Haven Children's Hospital. "Yet, it's a place you never want to have to go."
She's talking about the NICU, where we care for the tiniest, sickest, most fragile newborns.
Sloane and Gavin Spanierman's baby was rushed to the NICU in early 2016. Born three and a half months early, Jemma weighed only 1 1/4 pounds. Megan was her primary nurse.
"There's nothing you can say to fix it," says Megan, "but we try to make it the most positive experience it can be. Because whatever happens, these are the memories they're going to have."
Megan makes sure parents have good memories by involving them in their baby's care as much as possible— taking their baby's temperature, helping change the sheets. "One day, Megan put sunglasses on Jemma to show me what she looked like under bilirubin lights—a funny and wonderful memory," says Sloane.
Megan spent nearly 12 hours a day with the Spaniermans. "If there was anything we didn't understand about her care, Megan would explain," says Sloane. "She was like Jemma's parent when we couldn't be there. She loved her as much as we did."
Tragically, Jemma passed away after 21 days of fighting for her life.
Megan was there the morning Jemma died, she attended her funeral, and she even helped raise money in Jemma's memory for Hope After Loss, a support group for parents who have experienced the loss of a pregnancy or infant. She has remained a close and caring friend to Sloane and Gavin.
"I owe this award to all the amazing people who staff the NICU. They are all just as deserving,if not more so," says Megan. "Especially my fellow nurses, who I am still learning from every day."
When Sloane learned about Hope After Loss's annual award for outstanding compassion shown by a caregiver to a family that's had a loss, she felt deeply that Megan deserved it. Sloane nominated Megan, who ultimately was chosen to receive the award.
Today, Sloane and Gavin are the proud parents of Liev, a thriving baby boy who was born last August. "Megan was so supportive throughout my second pregnancy, answering countless anxious questions," says Sloane. "She even came to visit Liev and me in the
hospital on her day off!"