Born with a life-threatening heart defect
---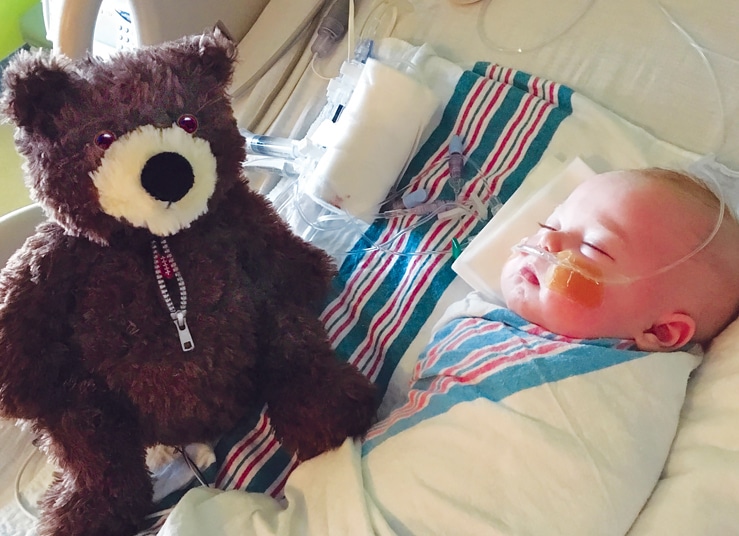 Your generosity put Reid on the long road to health. Thanks to you, Reid sleeps peacefully after open heart surgery six years ago
---
Just 26 hours after giving birth by C-section, Saryn got up and walked out of the hospital near her home in Westport.
SHE WAS STILL WEAK from the surgery, but her newborn son, Reid, had been rushed to the NICU at YNHCH for emergency care. She had to be with him, and her husband, Kevin.
Saryn found Reid, tiny and fragile, hooked up to a ventilator to help him breathe. An MRI revealed a rare heart condition caused by a combination of four defects that could only be repaired with open heart surgery.
Saryn's pregnancy had been healthy and uneventful. "I never expected anything like this," she says. "My whole life turned upside down."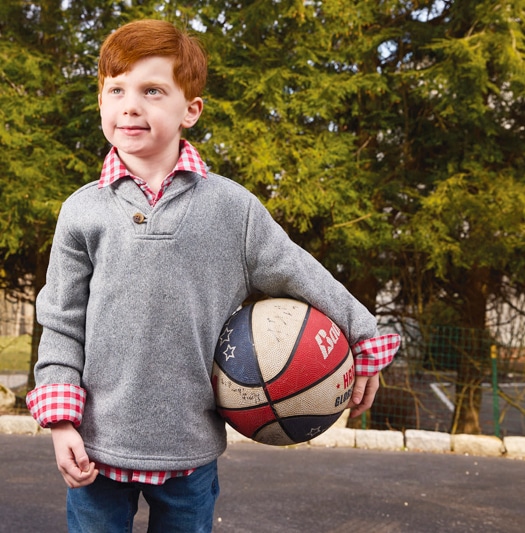 Just like Olympic snowboarder Shaun White
The physicians, nurses, and caregivers at YNHCH were patient and kind — and they gave Saryn and Kevin the hope they needed to get through.
A pediatric critical care doctor who had heard about Reid's case came in to tell Saryn that she had been born with the very same condition — and she'd had a typical healthy childhood and was thriving as an adult and physician.
And "when they told me Shaun White (the famous Olympic gold medalist in snowboarding) also had the same condition, it gave me hope that Reid would be okay," Saryn says. "It would be a long road, but I felt so fortunate that we were at YNHCH with the best possible medical team and technology.
After four seemingly endless months of challenges with breathing, feeding, and sleeping, Reid hit the 11-pound mark — the minimum his doctors felt was necessary to withstand the surgery.
Of course Saryn and her husband Kevin were terrified. But they had complete confidence in Reid's medical team.
Reid's five-hour surgery went exactly as planned. "Afterward, in the recovery room, he looked angelic and healthy and perfect," Saryn says. "That's when I finally knew he would be completely fine."
"A true miracle" made possible by donors like you
And in less than a week, Reid was smiling, gaining weight, and growing. "Everything started falling into place," says Saryn. "It was a true miracle."
Six years later, Reid is in great health, with absolutely no restrictions on his activities. He excels at school and he's a great athlete.
"At the last parent-teacher meeting, his teacher told me that — just as important as sports and academics — Reid is unusually kind to his classmates," says Saryn. "My heart exploded with pride at that moment. I think all he went through made him the way he is."
Reid's health must be monitored for the rest of his life. So once a year or so, Saryn and Reid travel to YNHCH to see his cardiologist. Like the other mem­bers of the care team that saved Reid's life, his cardiol­ogist has become like a family member.
Thank you, donors, for giving an amazing little boy like Reid a chance to have a wonderful life!
Can YOU help save the life of a child like Reid? Yes, you can! With a gift to the brand-new Campaign for the Yale New Haven Children's Hospital Heart Center
---
THANKS TO THE PAST GENEROSITY OF DONORS LIKE YOU, Reid (pictured above) is running around, playing basketball, baking brownies, and having fun like any typical six-year-old.
But if he hadn't had access to one of the best pediatric cardiology departments in the region, his story could have turned out very differently.
Jeremy Asnes, MD — one of the physicians that helped save Reid's life six years ago — and Peter Gruber, MD, PhD, co-directors of the Children's Heart Center, are leading a groundbreaking expansion and enhancement of the hospital's pediatric cardiac center.
And just like Wendy and Richard did with their amazing gift of the proceeds from Rob's beautiful sports car (click on button below), YOU can help bring the newest treatments, innovative technology, and extraordinary care to babies and kids with heart disease at YNHCH.
With your donation of any size, you will help make it possible for more children, with the most complex heart conditions, to live full wonderful lives — like Reid.