Rescued from a Ticking Time Bomb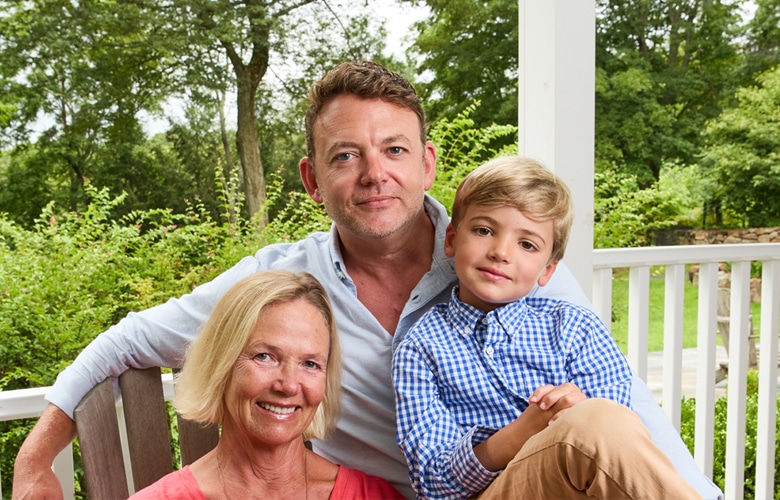 Thanks to your generosity, Elizabeth was rescued from "the silent killer"! Three random strokes of luck saved Elizabeth from the time bomb that was ticking away inside her chest.
---
Elizabeth at 30: A diagnosis lost and found
Elizabeth never gave much thought to the results of a medical test she had in her 20's. She was super-fit, a great athlete, and she'd never had a single symptom. Still, when she chanced upon those test results while going through some papers, she figured she should show it to her new husband, Lowell, a preeminent New York City radiologist.
The echocardiogram showed she had an aortic aneurysm — an abnormal bulging of the aorta, the heart's largest artery. Aortic aneurysms are sometimes called "silent killers," because by the time a patient experiences symptoms, it's usually too late — the aorta is on the verge of rupturing.
Lowell didn't waste a minute getting Elizabeth to a cardiologist for evaluation. Fortunately, her aneurysm hadn't yet grown to the danger point.
For the next twenty years, Elizabeth dutifully visited her cardiologist every six months for monitoring. And although she continued to feel great and maintain her athletic lifestyle, "I knew it would need to be fixed when the time came," she says. "I just needed to find the right surgeon."
Elizabeth at 48: The napkin
Lowell was having lunch with some friends, when he overheard a man in the next booth talking about an aortic aneurysm that was repaired by a "miracle doctor at Yale New Haven Hospital."
Lowell asked the man to write the name down on a paper napkin: "Dr. John Elefteriades at the Yale New Haven Hospital Heart and Vascular Center."
A few years later, Elizabeth would be very grateful for that napkin.
Elizabeth at 53: Lowell joins Elizabeth at her checkup
Lowell didn't usually go with Elizabeth to her cardiology checkups, but — just by chance — he joined her for her CT-scan one afternoon. He was alarmed at what he saw.
"Elizabeth, it's not good," he told her. The aneurysm had grown significantly since the previous exam. Lowell could see that her condition was critical — but the cardiologist did not agree with him.
Thank goodness for Lowell! Clearly, it was time to dig out that napkin.
When Elizabeth met Dr. Elefteriades (known by all as "Dr. E."), former chief of cardiothoracic surgery, she knew within minutes that "this was the guy." His great warmth and compassion were unlike anything she'd experienced in her decades as a cardiology patient.
Dr. E. agreed with Lowell. Elizabeth was in grave danger. Her aorta was on the verge of rupturing. Elizabeth's surgery was scheduled immediately.
Dr. E. replaced Elizabeth's aorta with one made of Dacron, a safe and durable polyester fiber.  "My husband said it was amazing what he was able to do in there," says Elizabeth. "Dr. E. has magical hands."
Aortic aneurysms run in families
But the story doesn't end there. Aortic aneurysms often run in families, and Dr. E. insisted that Elizabeth's adult children, Nick and Sophie, be tested.
Sophie was fine, but Nick had the same condition as his mother — and just like her, he had absolutely no warning symptoms.
Nick's aorta was also successfully repaired by Dr. E. at the Aortic Institute at YNHH.
"Dr. E. saved both our lives," says Elizabeth. "But let's not forget — my husband saved my life first!"
Thank you, donors, for supporting the YNHH Heart and Vascular Center. You make it possible for our amazing physicians to save people from "the silent killer!"
---

Subscribe to our Spotlight Newsletter!
Where you'll find heartfelt stories of triumph.
Name First Last
Enter your email address: