"More miracles CAN happen. That's why I ride."
---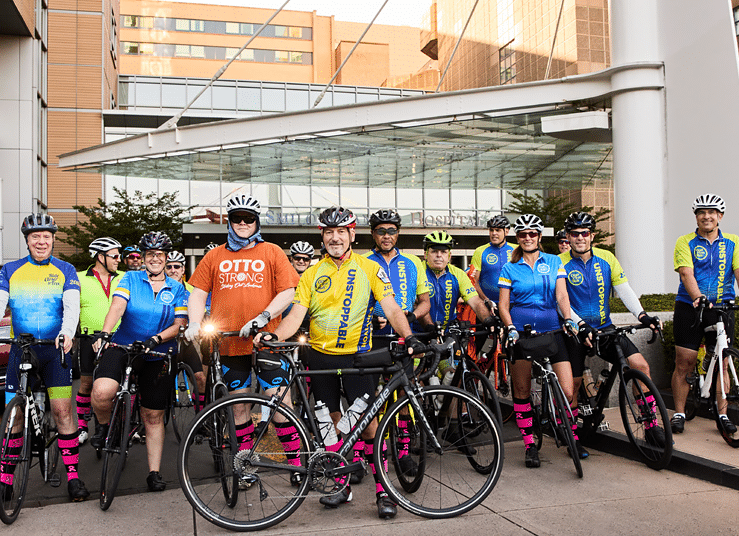 Steve says it's a miracle that he can ride for Closer to Free. You made it possible.
---
YOU'VE PROBABLY NEVER HEARD of worse cancer symptoms than those Steve Martovich suffered through.
He was 50 years old in 2016, with a wife and 13-year-old daughter, when he was diagnosed with non-Hodgkin's lymphoma. It was already stage IV before it was discovered.
Steve's many symptoms were excruciating. He couldn't lift his arms because the tumor at the top of his spine pinched off a nerve. A lump on the back of his liver made lying down on the radiation table agonizingly painful. When the cancer traveled to his brain, his vision was affected and he began to see double. And that was just the beginning.
But as awful as his symptoms were, the side effects from the treatments were even worse. Steve lost the ability to swallow. Fluid built up in his lungs, causing one of them to collapse. Shingles attacked the nerves in his face. And he needed emergency surgery on his intestine.
"The cancer was bad," he says. "But the multiple complications were devastating. I couldn't even walk for most of 2017." Steve was in and out of the hospital — and out of work — for two years.
Yet somehow he stayed positive. "The whole time," Steve says, "it never dawned on me that I wouldn't make it. When they asked me to sign a Do Not Resusci­tate order, I said absolutely not!" He had no intention of leaving his wife, Sharon, and his daughter, Mia.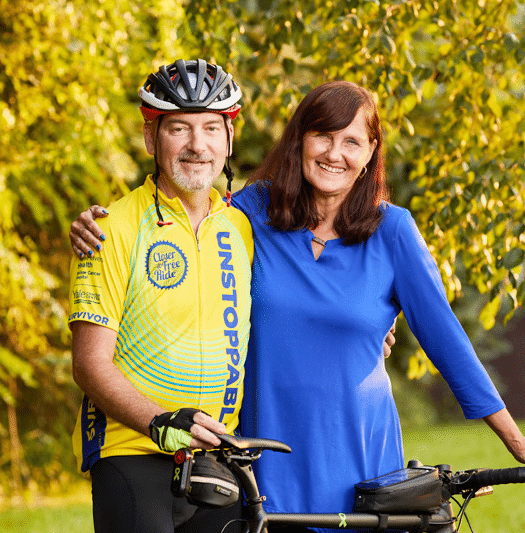 Could he ride his way back to health?
Steve still remembers lying in his hospital bed on the 12th floor of Smilow Cancer Hospital and seeing a television commercial for the Closer to Free Ride. He hadn't cycled in over 30 years, but he knew right away that he wanted to earn that survivor's jersey.
"That ride became my goal," he says. When he finally came home, after the treatments were over and the cancer was in remission, he cautiously began his jour­ney to reach that finish line.
Steve registered for the 25-mile course in the September 2018 Closer to Free Ride. Then he started to train. The first day on the bike, he made it to the stop sign at the end of his street. Soon he was able to complete a couple of miles. And before long, he was going on group rides with his local bike shop.
"The Closer to Free Ride was the only thing that kept me getting on the bike every three or four days, building back my strength," says Steve.
When the big day came in September, Steve exceeded expectations by blowing right by the 25-mile marker.
"I rode 65 miles, less than a year out of the wheel­chair!"
Closer to Free as a way of life
Every year since, Steve has led a team in the Closer to Free Ride. And he's ridden at least 100 miles each time. He was already a champion as a cancer survivor. Now he's a super-athlete, too.
"I do it to celebrate Smilow," he says, "because of what Smilow gave me. If I can give back just a little bit, it feels great." This year, Steve's team set a goal of $5,000. They raised over $13,000!
Steve hopes that some of the money raised through the Ride will be used to develop cancer treatments that work without causing the kind of debilitating side effects he endured.
"Immunotherapy and other new treatments will be so much better for patients," he says. "I know I may go through this again someday, and if I do, I hope it will be completely different."
In the meantime, Steve is filled with gratitude for donors like you for helping save his life.
Because of your support there were 237 survivors riding this year!