Stretched Thin in the PICU
Our nurses never quit when caring for our youngest, sickest patients. Today, they need your help.
---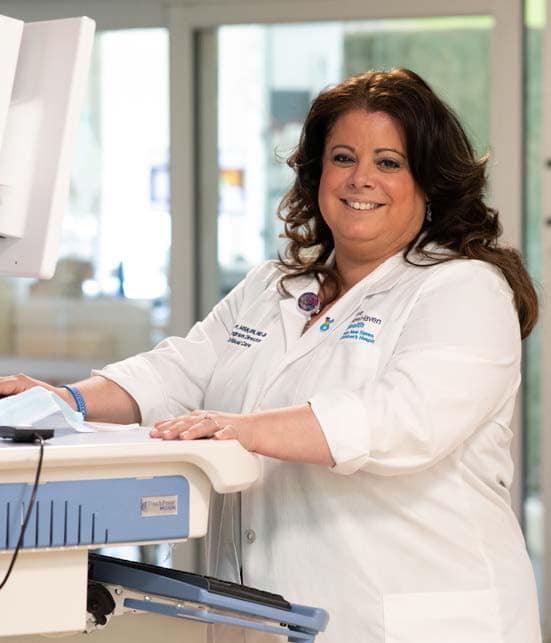 "It felt like Armageddon," says Erika Setzer, recalling the first days of the tripledemic. Erika is the Clinical Program Director of Pediatric Critical Care Services. She oversees the nurses in the Pediatric Intensive Care Unit (PICU).
"We didn't have enough beds," she adds. "Patients were waiting for hours in the Emergency Department. There were not enough of us to go around."
The worst of last fall's unprecedented respiratory viral season — with COVID-19, RSV, and flu converging — is over. But the surge of patients, and the resulting pressure on the PICU staff, is not.
"So many children's hospitals have shut down across the nation," says Erika. "Access to care is a problem, and many states aren't equipped to handle pediatric intensive care." YNHCH, as one of the only PICUs in the region, must accommodate the overflow.
As Theo's parents learned (see cover article), these dedicated nurses never let the intense stress of their jobs spill over into patient care. "They do their best not to let the family feel the pressure they're feeling, while still providing the exceptional quality of care we're known for," says Erika.
But underneath that professional exterior, the ongoing surge of patients combined with the emotional demands of caring for gravely ill children is taking a heavy toll.
"I feel their frustration, burnout, and exhaustion," says Erika. "My goal is to keep them going, to give them the support they need to carry on."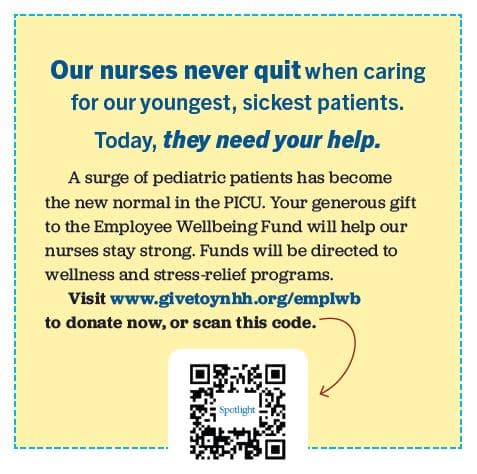 We can't stem the tide of patients or change the nature of the work, but you can help our nurses stay strong with your generous donation. Funds will be directed to a variety of stress-reducing resources like chair massages, reiki, and self-care packages.
"These are the toughest, most skilled individuals you will ever meet in your life," says Erika. "It takes a tremendous amount of dedication and personal sacrifice to do this work. There's no way to describe it — they're just special people inside."