A room of their own
Teen Center helps kids with cancer fight loneliness and isolation
---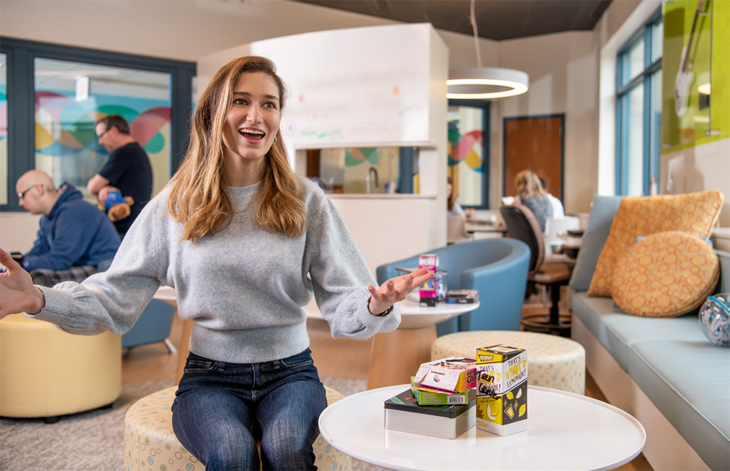 When you meet Lauren Telesz, it's hard to believe she's battled cancer. She's happy, healthy, full of energy, and excited about her future after she graduates from Yale next month.
But at age 15, she received the terrifying diagnosis of Stage IV Hodgkin's lymphoma, a cancer of the lymphatic system. Instead of starting her sophomore year of high school, she spent three months in and out of Smilow and Yale New Haven Children's Hospital (YNHCH), receiving course after course of intensive chemotherapy.
It was an awful time. She only made it to school for14 days over those three months. Her beautiful brown hair fell out. She missed homecoming. She felt like her friends couldn't relate to what she was going through.
"I felt very alone," she says. "I felt like the only teen in the world with cancer."
Lauren is incredibly grateful for the wonderful medical care she received here. But looking back on her experience, she feels that her cancer journey might have been easier to bear if there had been a supportive, age-appropriate hospital environment for teens with cancer, like her.
Feeling like life is passing you by
"As a teen with cancer, you end up isolated in your room the entire time," she says. "It's so important to get out and talk to kids your age who are going through what you're going through. But the only common room was designed for little kids, with Elmo and Dora the Explorer. As a teen, that was the last place on earth you wanted to be."
Once her treatment was completed and she got the "all-clear," Lauren couldn't stop thinking about the feelings of loneliness and isolation she experienced in the hospital. She made it her mission to make things better for teens who would be there in the future.
Lauren mobilized her high school friends, families, and teachers to raise $10,000—and the idea took off. Soon, Joel Smilow—the benefactor of Smilow Cancer Hospital, Teen Cancer America, and several other donors added their support.
Last November, the Lauren Telesz/Smilow Teen Center opened on the seventh floor at YNHCH. With Lauren lending her insight and advice, the architects created a bright, welcoming space for teens and young adults.
"There's comfy furniture where kids can sit and chat, and a mini-amphitheater for watching movies together," Lauren says. 'There are computers and iPads for keep-ing up with schoolwork and connecting with friends."
Amanda Garbatini (see cover story), coordinator of the Adolescent and Young Adult (AYA) Oncology Pro-gram, says the center is a game changer. "It's a safe place where they can go and feel like themselves, where they can be the teens or young adults they are."