The Adams Neurosciences Center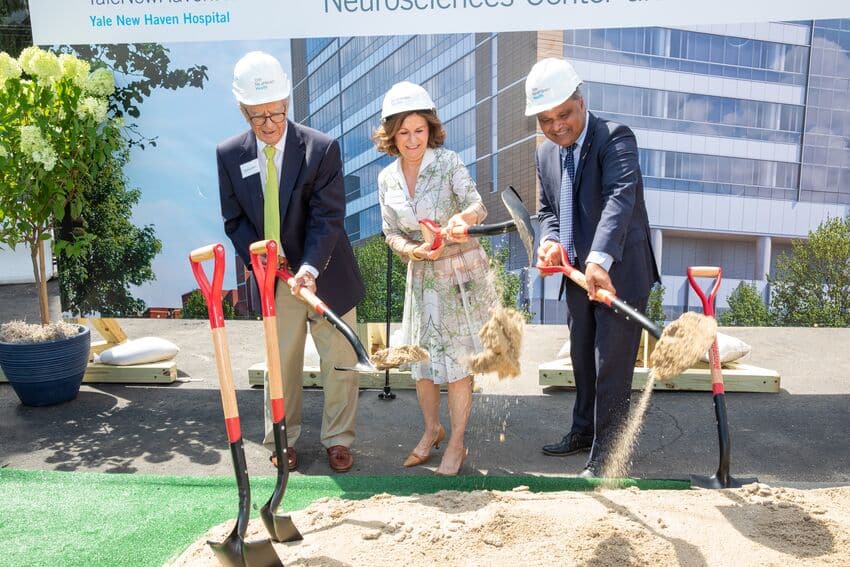 Above from the left: Stephen and Denise Adams, and far right, Sandip Mukherjee, MD

Yale New Haven Health Breaks Ground for the Adams Neurosciences Center
Yale New Haven Hospital broke ground on August 31st, on the $838 million, 505,000 square foot project that includes the construction of a new Neurosciences Center on the Saint Raphael Campus at 659 George Street. The project is being realized in part due to the philanthropic generosity of Stephen and Denise Adams of Connecticut. Lifelong supporters of the arts, education and health, Stephen and Denise Adams' transformational leadership gift will advance the delivery of cutting-edge neurosciences research and care in Connecticut, New England and beyond.
The project will include two new patient facilities and focus on innovation in the neurosciences. It will be the largest project of its kind in state history and will provide enhanced access to state-of-the-art care for patients. The project will feature 201 inpatient beds and provide a unique setting for patients seeking innovative care from movement disorders to neuro-regeneration. The project will also serve as a replacement strategy for York Street campus' East Pavilion semi-private beds, which opened for patients in 1953. It will decant roughly half of those beds so no increase in bed license is being sought.
"What started as an ambitious dream in this parking lot over three years ago is now ready to become a reality," said Christopher O'Connor, president and CEO, Yale New Haven Health. "Through perseverance, hard work and determination, starting with our partners in the City of New Haven and boosted with a belief in this dream by Stephen and Denise Adams, Yale New Haven Health marks today's groundbreaking with an eye three years into the future when we open one of the most advanced neuroscience centers in the United States. Breakthroughs in medicine and science can sometimes move more slowly than we would like. But in the end, the goal of serving our patients, families, and this community, though philanthropic generosity and vision, provides us with the brightest beacon for the future."
The new center will consist of two patient bed towers (the Sherman tower adjacent to Sherman Avenue and McGivney tower built atop of the existing McGivney Center). Both towers will share a common podium that will house the new entrance and the main lobby on the first floor, neurosurgery, radiology spaces on the second floor, and care giver spaces and the mechanical equipment room on the third floor. The project will create hundreds of construction jobs as well as new positions at Yale New Haven Hospital.
"Yale New Haven Health is the largest private employer in Connecticut and to resume construction post-COVID is very important for our state," said Lt. Governor Susan Bysiewicz. "We are very fortunate that this type of investment will stretch the boundaries of medicine and likely lead to breakthroughs in the treatment of neurologic disease. So, as we celebrate the hundreds of new construction and permanent jobs this groundbreaking represents, we are also humbled by the direct impact it will have on the health of our citizens."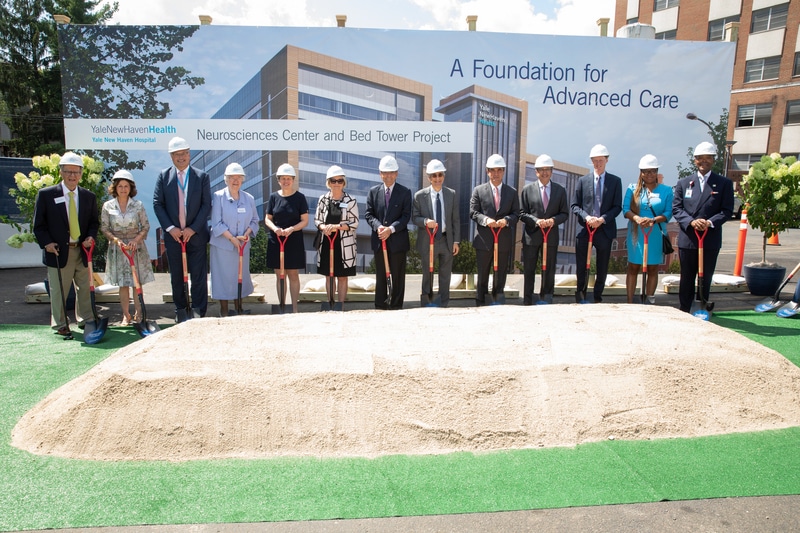 "The Neuroscience Center is a transformational investment for our community, ensuring access to the very best, state-of-the-art medical care for New Haven residents. It will also strengthen the city as a hub for advancements and innovation in medicine and science and create hundreds of new construction jobs and additional permanent jobs as well," said Mayor Justin Elicker. "I want to thank Yale New Haven Health for their ongoing commitment to this important project as well as our Board of Alders for helping to make it a reality for the Elm City."
"Yale New Haven Hospital has made great efforts to bring our elected and community leaders in from the start" said Tyisha Walker-Myers, president, New Haven Board of Alders. "We appreciate that transparency and we recognize the value this project brings to our city. As the representative of the 23rd ward, I look forward to the continued partnership on supporting and improving our neighborhood."
"In a time when Academic Medical Centers, including ours, are navigating through some very difficult financial challenges, moving forward with projects such as these may seem daunting," said Mary Farrell, chair, Yale New Haven Hospital Board of Trustees. "As an Academic Medical Center that offers the most cutting-edge treatments and surgeries, we owe it to our communities and patients to continually improve and innovate, and that is what this Neurosciences Center will allow us to do. Our board strongly supported moving this project forward. It helps fulfill our pledge to invest in the Saint Raphael Campus and we could not be prouder of the clinicians and scientists of Yale New Haven and Yale School of Medicine advancing the care for all these patients, for today and tomorrow."
"I am thrilled that this center will enable us to make cutting edge treatments available to Yale New Haven patients," said Nancy J. Brown, MD, dean of Yale School of Medicine. "Yale is a world leader in neuroscience research, and discovery can happen at the bedside."
"While this represents a landmark investment in our patients, it is equally important to us that we could not move this project forward today without full partnership with the city of New Haven, the state and the local community," said Keith Churchwell, MD, president, Yale New Haven Hospital. "We are proud to work together to advance the promise of exceptional care for our patients and with our colleagues at the Yale School of Medicine as we have been nationally recognized for innovation in the neurosciences for years. Working collaboratively, we believe we can bring the most advanced care – built upon groundbreaking research – to our city, state and region. We are excited how this new facility will change the landscape of healthcare, drawing patients from throughout the region and nation and further enhance the profile of the Neurosciences at Yale New Haven Hospital."