Three Generations of Giving
Carole Brown's life has been shaped by her devotion to her children and family and her passion for giving back to her community in meaningful ways. Her parents instilled in her the importance of philanthropy, and she has passed that on to her own daughters, Jennifer, Kristin and Alison, who have joined Carole in continuing their family's legacy of giving.
Beginning in 1970, Carole's late parents, Irving and Alice Brown, generously supported the Hospital of Saint Raphael and more than 50 years later, the Brown Family continues their support at Yale New Haven Hospital in areas such as psychiatry and digestive health.
Carole recently made a significant gift in honor of her parents to a newly created digestive health teaching kitchen. She is excited for patients to learn about the power of food as medicine through the hospital's first teaching kitchen. The goal is to partner with patients to enhance their digestive health and improve the well-being of current and future generations.
The Irving and Alice Brown Teaching Kitchen will be a beautiful space where participants will work side-by-side with a chef and registered dietitian, learning to create foods which are both tasty and promote wellness. Many people want to prepare healthier meals, but they are not always comfortable in the kitchen or just do not know where to start. The Irving and Alice Brown Teaching Kitchen will help build confidence and cooking skills in a fun and interactive way.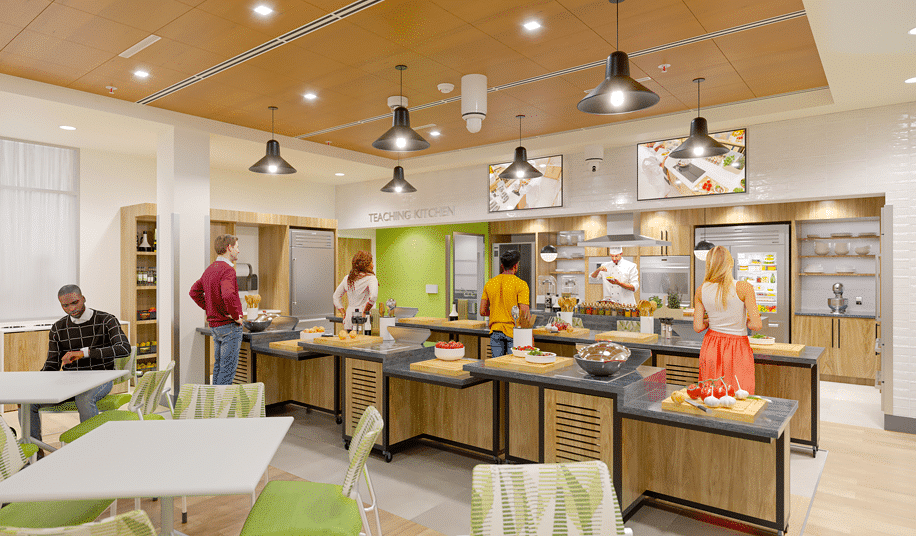 Healthy eating is important to everyone's wellness and providing assistance with modified diets and food preparation to patients with gastrointestinal issues is imperative. Nutrition can help with many digestive conditions such as reflux, irritable bowel syndrome, celiac disease, ulcerative colitis, Crohn's disease and more. "I'm excited about the important and innovative work that will take place at the Irving and Alice Brown Teaching Kitchen in North Haven this winter," says Carole. "Nutritional information and support can have an enormous impact on our health."
We are certain Carole's parents would be equally thrilled knowing how many patients this generous gift will impact in their honor. Learn more about Digestive Health programs and services at Yale New Haven Hospital.