Frying and baking their way through the pandemic to fight breast cancer
---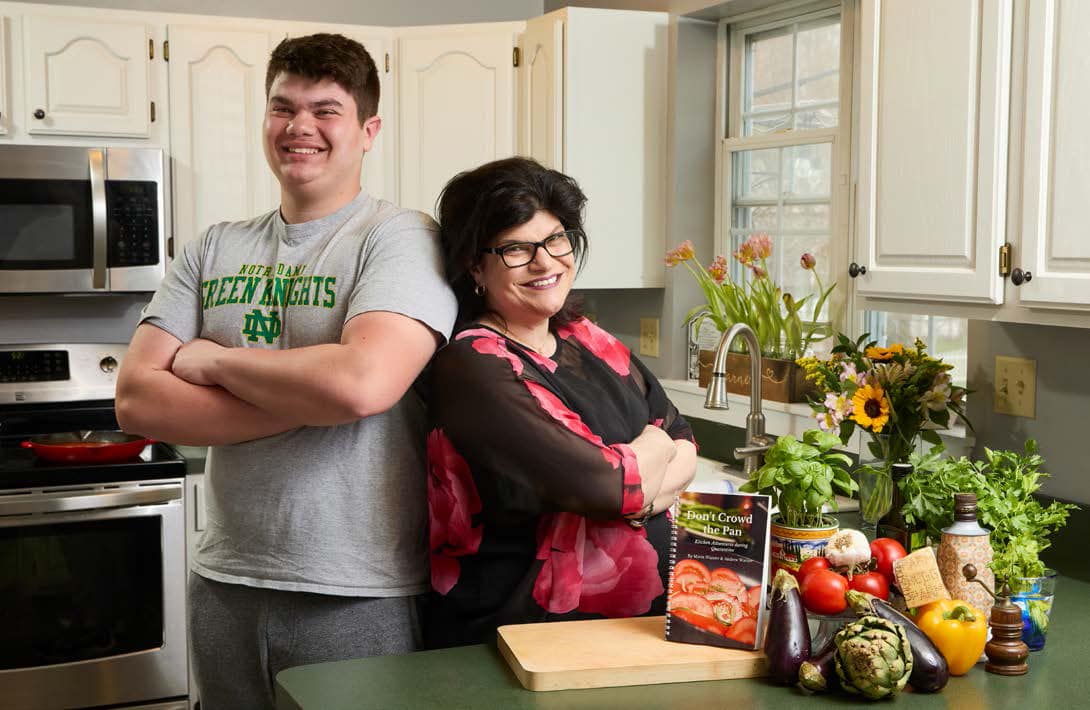 ---
ON MARCH 19, 2020, Maria Warner gathered all the ingredients she would need to make Nutella ice cream. Then, she taped her phone to an olive oil bottle, grabbed her son, and launched Facebook Live.
And just like that, two cooking stars were born.
It started out as a way for Maria to distract her son, 16-year-old Andrew, as they sheltered in place during the early months of the pandemic. As a bonus, Andrew would learn how to cook some of the family's favorite dishes.
But it quickly grew into so much more.
For 100 nights in a row, Maria and Andrew mixed, fried, and baked their way through eggplant parmigia­na, homemade pasta and gnocchi, cannoli, and more — on camera, live.
"It was all about Italian comfort food," says Maria.
"No grilling chicken breasts or steaming broccoli. Foods you'd make on a weekend — just for fun. We all needed that."
At first, it was just for a few friends and family who Maria wanted to connect with during the pandemic.
But the audience quickly grew by word of mouth through friends of friends — and friends of those friends. Before long, hundreds of people were logging in and sending messages of thanks from Maryland, Florida, Texas, and even as far away as Italy.
"My son's sense of humor kept it very light-hearted," Maria says. "We didn't talk about anything serious — just food, and family stories. And the daily 'little dog report,' where we filled everyone in on the antics of our two mischievous dogs. It was magic in a bottle for 100 nights."

Keep your distance — and don't crowd the pan!
About 50 days into the adventure — and by popular request from their viewers — Maria and Andrew decided to collect all their recipes and self-publish a cookbook. If they sold any, they would donate the pro­ceeds to the Breast Cancer Program at Smilow Cancer Hospital. That's where Maria was treated for breast cancer in 2017.
Thankfully, Maria is in great health today, and she wanted to show her gratitude. "The care at Smilow was amazing," she says. "It was like a warm blanket, keeping you safe during your entire care process, from beginning to end."
Andrew and Maria are thrilled that, as of the end of March, they've sold nearly 100 cookbooks and donated more than $1,300 to the Breast Cancer Program.
Now that we're out of quarantine, Maria is back at work as a clinical technologist in a tissue typing lab at the Yale School of Medicine, and Andrew is back at Notre Dame High school, where he's finishing his junior year. They no longer have days of unstructured time for planning and filming a cooking show.
But you can still learn to cook their recipes and fry, bake, and eat to beat breast cancer, like Maria and Andrew. Buy Don't Crowd the Pan — and the pro­ceeds will go to the Breast Cancer Program.
Thank you, Maria and Andrew, for your creativity, compassion, and generosity!